As the time has gone on in my business and I have gotten busier, I thought it would be a good time to share why it's important to book your professional family photoshoot early.
I think it goes without saying, that the busier you get, the less time you have. I really do try my best to add in extra dates for people if they really need them because I hate to let people down or for them to miss out. However, this isn't actually the reason I suggest to book in advance!
If you have thought about booking your family in for a photoshoot, then you have probably thought about what type of photos you'd like.
Related post: How to choose your family photographer
Generally, you either want something super posed, or something more relaxed. I always say to people that even if you want relaxed family photos, it will still always be slightly posed. If I told you to 'go and be natural' on Clifton Beach for an hour while I take photos, chances are, NO-ONE would act naturally! 😉 So the general idea is for me to create the natural moments in great light with the best composition and capture the moments you can't capture yourselves!
Anyway, the reason this correlates to why you need to book early, is because for me to get those natural moments, I need to get to know your family a little bit. The types of things that make you smile and laugh, special moments you share with your family and even things you are insecure about.
"Lizzy takes the time to get to know us and is very down to earth and very good with babies" – Sarah L
I do this in a few different ways. Sometimes Families book me who have been recommended by friends, so already have a general idea of the type of photographer I am. Sometimes they have followed me on social media for a while, so know exactly the type of photographer I am. Either way, once you have booked with me, I generally recommend that you follow me on Instagram or Facebook. Its such a personal way that we can interact with each other beforehand so that you feel relaxed in the lead up to your family session! I love to follow along with your family and learn about your quirks 🙂 It's definitely not a requirement. Some people are a lot more private. However, over the years I have definitely found it helps. So many people turn up saying that I feel like an old friend, and how much it helped them.
"We felt as though we were at our friends house having a catch up and getting some pictures taken. They are the most beautiful and natural pictures" – Olivia L
Another way I prepare for your session is by sending you a questionnaire. It covers basic details like names of those attending and the children's ages. It also goes more into detail of the types of photos you would like. Whether there are any milestones you would like captured and if there is anything fleeting you would like captured such as the end of a breastfeeding journey or a child that is outgrowing your hip. The end goal for your session is to not only capture natural smiles to fill your walls and albums, but also to freeze those moments that go by so fast.
If you are booking the night before you want your session, there just isn't the time for either myself, or you to prepare. Investing in a professional photographer isn't cheap. If you are going to do it, you want to do it properly.
"Lizzy made us feel so comfortable from the moment we arrived, it was like going to visit an old friend. She is an absolute natural with babies" – Laura D
The final piece of the puzzle, is actually during your session (That might be an obvious one). This is the absolute biggest reason I don't time my sessions. Some times we can be done in 45 minutes and have a perfect gallery. Sometimes it takes an hour and a half. Which I know, sounds absolutely terrifying! But I don't have my camera in your face that whole time. I'm constantly talking and observing how you interact with each other. I take the time to notice how you comfort your children. How you rest your head on your Husbands shoulder when I'm focusing on the children's photos and he leans in to kiss you on the head. I see it all, and you see it when you receive your photos. The love your family have for each other, through the eyes of someone else. It's my favourite way to capture connection. And when you look at your final gallery, it's like being a fly on the wall of your own life. Your own love.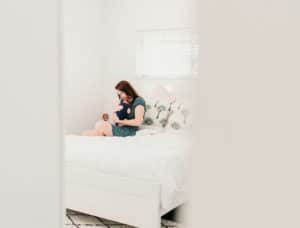 So, that's why I really recommend booking your family photoshoot with as much notice as possible 🙂
If you would like to book your family photos, you can contact me here.
Don't forget to follow along on Instagram and Facebook and say hi!
Lizzy x