One of my favourite things about Australia, is the public holidays! We get so many of them! One of them being Australia Day! This year (January 2020), Australia Day falls on a Sunday, so we get the following day, Monday 27th January as a public holiday. This week, I thought it would be fun to share some ideas of things to do in Cairns for Australia Day!
If you are anything like me, you love to spend time together as a Family. Public holidays are all about getting out and enjoying everything Far North Queensland has to offer. We are so lucky that there are so many things to do in Cairns! Especially if you love outdoors!
I thought it would be good to mix in some of MY favourite things to do in Cairns for Australia Day, along with things Cairns Council have on over the holiday.
Of course, as always, we are always looking for new things to do ourselves, so I'd love to know what you get up to on Australia Day! You can let me know in the comments below, or via Instagram or Facebook! Just comment on my latest post, or send me a DM!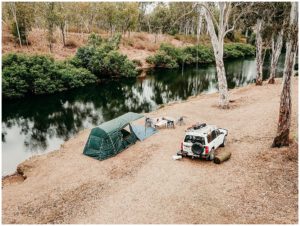 Camping – I wouldn't be sharing things I love to do in Cairns, if I didn't mention camping! Our Family love to get off the beaten track and find beautiful locations to put up our tent. It's a great way to see new places, get the kids outside and enjoy quality time together and SWITCH OFF! We generally go to places without mobile service, so we can put our phones away and enjoy each others company. There are so many great camping spots in Far North Queensland. We have a huge list and are slowly making our way through them! A favourite of mine that we've been to recently is Woodleigh Station. I won't lie, I do like a few home comforts when I'm camping. We did actually recently buy a porta potti from BCF (much to my Husbands dismay!) Admittedly it does take up a lot of room, but it enables us to go to some more remote places, and a happy wife leads to a happy life right?! 😉 Woodleigh Station, does however have an amazing shower block and flushing toilets! (My favourite, I hate long drops!) It's such a great combination of outback camping with home comforts. When we stayed there, we were the only people on the second night! How about that for lucky? Lots of people tell me how popular it is, so I imagine going over a public holiday weekend would be different. However, its a beautiful spot, and close to some tourist hot spots. The Innot Hot Springs is just one of many!
Cairns Esplanade lagoon – No pool? No problem! The Cairns Esplanade lagoon is FREE and a great way to cool down on a hot tropical summers day.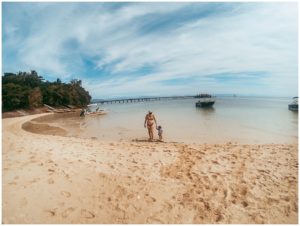 3. Green Island – We love hopping over to the islands. We are extremely fortunate to have our own boat, however you can also jump on the ferry. We love Green Island with the girls, and if you get there early, you can beat the crowds! You can swim, snorkel, grab a drink at the resort and there is even a small crocodile zoo there! The zoo is home to Cassius, who in 2012, gained the title largest crocodile in captivity at 5.48m!
4. The council have some great organised events for Australia Day. You can check the list out here.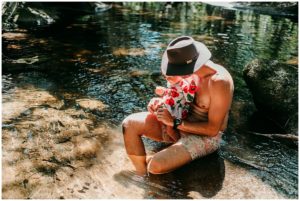 5. Local Creeks – We have so many beautiful local creeks so check out! They are a great place to cool down, and free! (And added bonus, less chance of crocs 😉 ) A few of our favourites are Davies Creek, Goomboora Park and Stoney Creek. You can also start the Douglas track walk here to Glacier Rock, which is one of my favourite walks in Cairns!
6. And lastly, everyone loves a drink on Australia Day right? My friends at Flamingos Tiki Bar are hosting Rum Day on Australia Day with 15% off ALL rums! How good is that? This tropical oasis is hidden beneath street level of Cairns CBD. They love to bring people together to share all things tropical and a bloody good drink! If you go in, make sure you say hey to Andrew. He'll take good care of you! If you'd like to know more about Flamingos Tiki, you can check out Tiki TV! They share recipes for you to make your own cocktails!
I hope that's given you some great ideas for things to do in cairns for Australia Day! If you do any of the things I recommend, make sure you share a photo and tag me so I can see! I'm on Facebook and Instagram and love to see at you get up to!
Also, don't forget to share some of your favourite things to do in Cairns!
Enjoy the long weekend!
Lizzy x
P.S Did you enjoy this post? You can check out similar posts here!